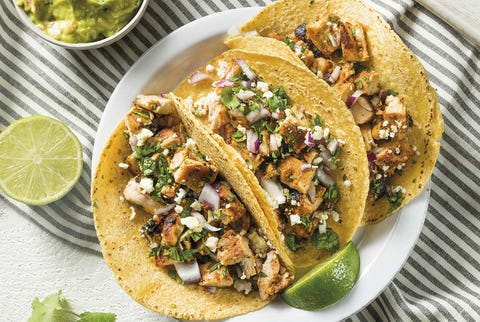 Ingredients
600g chicken breast

wheat or corn pancakes

grated cheese

a purple onion

lemon juice

sweet or hot paprika

Pepper

cilantro
2 avocados

30g onion

50g tomato

1/4 green bell pepper

lime juice

cilantro

Salt
Preparation
To prepare the guacamole, peel the avocados, remove the bone and crush with the help of a fork. 

Add 1 tsp lime juice. 

Chop the tomato, onion and green pepper and add to the avocado. 

Add 1 tsp chopped coriander and salt; 

Mix.

Chop the chicken breast and marinate. 

To do this, we can use a little lemon juice, sweet or hot paprika and pepper. 

Let marinate for a few minutes. 

Season and cook in a pan with oil.

Chop a red onion. 

Heat a non-stick frying pan and put the wheat or corn pancakes, round and round. 

Fill the tacos with cubed chicken, chopped onion, grated cheese to taste and chopped cilantro. 

Accompany with the guacamole. 

Your dinner will be a success!
Recipe source: www.micasarevista.com